**To view Covid-19 archived guidance please click here.**
********************************************************************
Please click title (or image below) to view pdf: BSGAR guidance on withdrawal of Barium sulfate 100% w/v oral suspension (Baritop® 100) and Barium sulfate 94.6% w/w granules for suspension (Baritop® Plus) by Sanochemia Diagnostics UK Ltd .(November 2021)
Baritop® 100 and Baritop® Plus have been discontinued with remaining stock expected to be exhausted by late March 2022. This currently leaves only one UK supplier of barium products, which is Bracco UK limited.
Barium examinations of the upper GI tract remain an important aspect of service delivery across the NHS in selected patients. The current alternative barium formulations E-Z-Paque 96 % w/w powder for oral suspension and E-Z-HD 98 % w/w powder for oral suspension allow continuity of services.
Rectal barium sulfate is now only used for very limited indications in adults, since replacement of the barium enema by CT colonography. However, it remains indicated specifically for defecating proctography to evaluate pelvic floor disorders. While Baritop is licensed for rectal administration, E-Z-paque 96%w/w is not. It is used currently as an off license indication in a number of NHS Trusts for this purpose and mixed with milled oats, or similar bulking agent which are then administered rectally in the form of a paste. As this remains an important diagnostic test for the management of pelvic floor disorders, we advise that services consider adopting E-Z-paque 96%w/w barium for rectal administration as an off-label use to allow continuation of services.
We recommend that all GI Radiology services ensure that they have adequate supplies of Barium Sulfate products in line with their usage.
Dr Damian Tolan, President Elect BSGAR
Prof Stuart Taylor, President BSGAR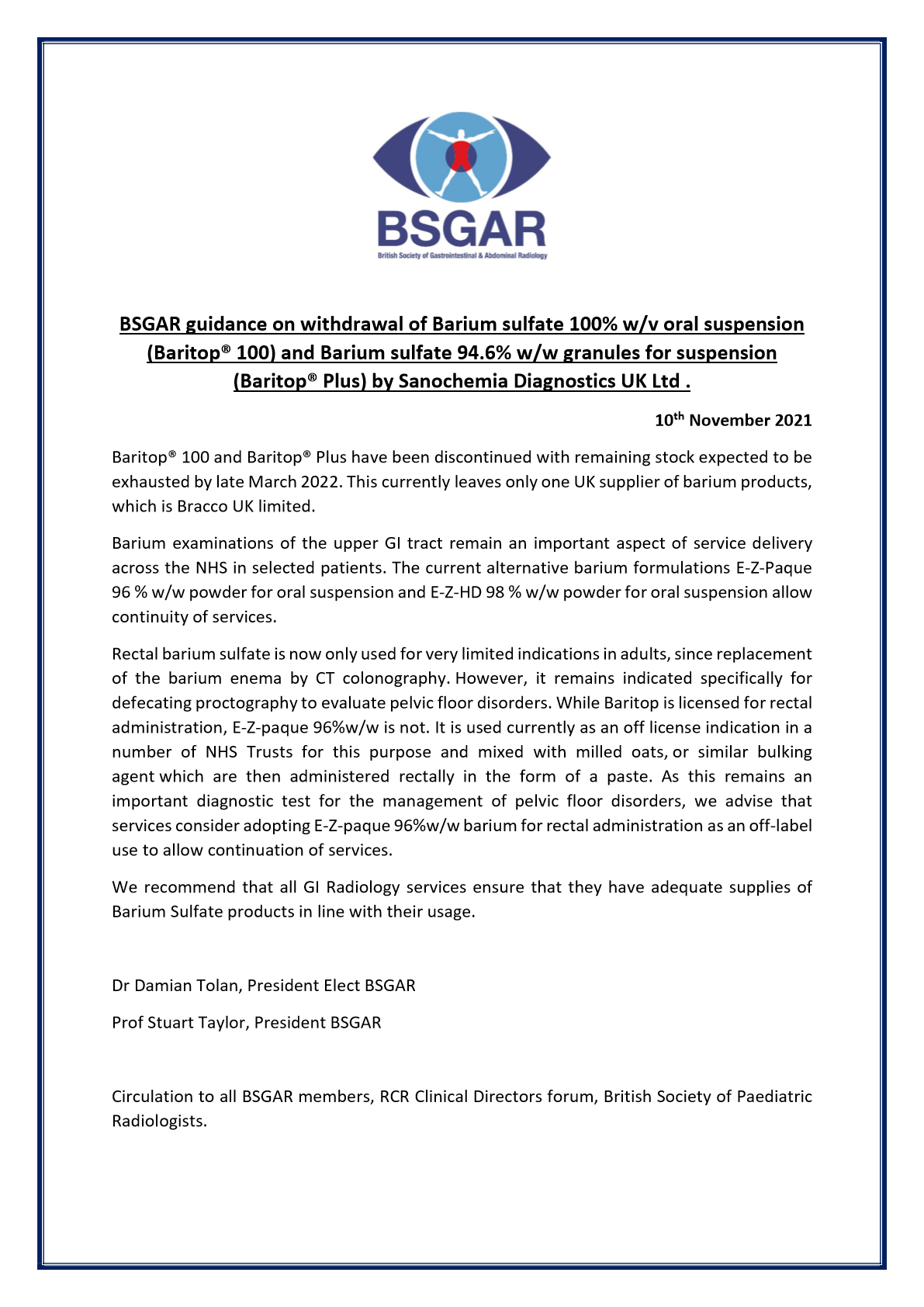 ********************************************************************
Diagnosis and management of gastrointestinal manifestations of vaccine induced thrombosis and thrombocytopenia (VITT) syndrome
Click on the infographic below to view pdf of the document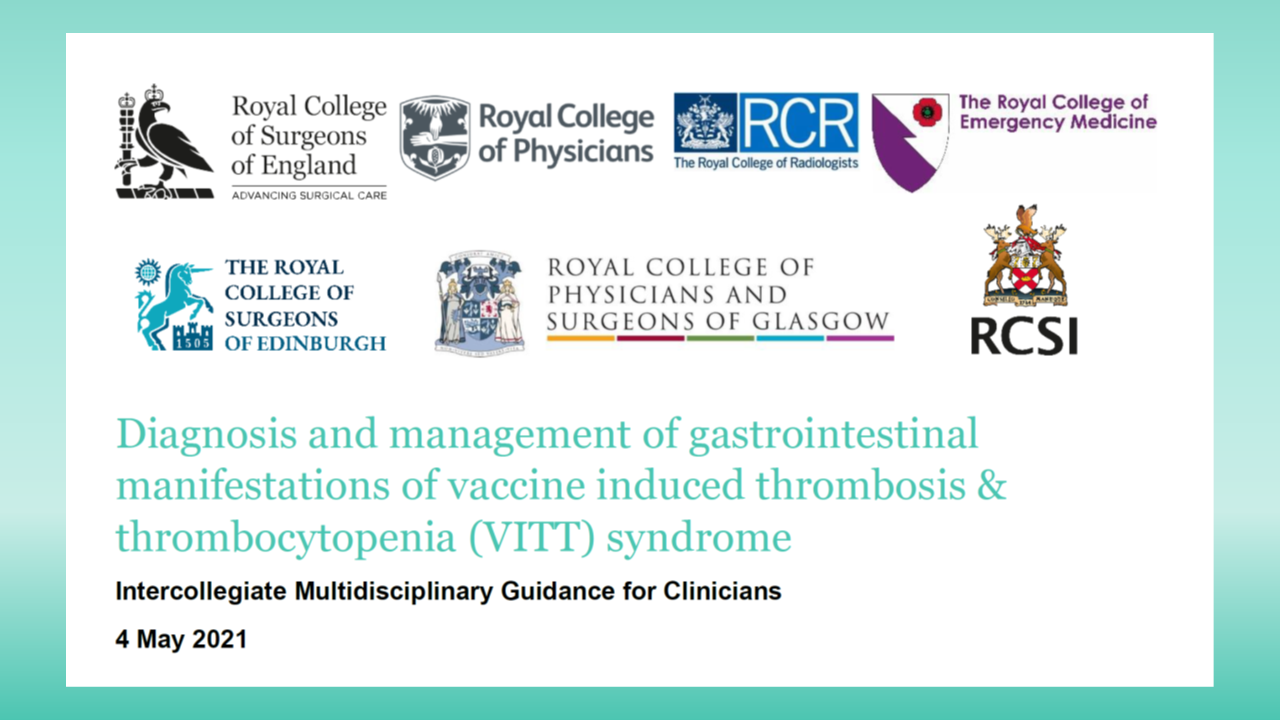 DATE: 22.05.20. VERSION 2.0
(Click on the title for the pdf document)
This is an update to the previous BSGAR-BSTI statement (version 1.0) dated 25.03.20.
Previously, we had suggested that patients who required an urgent CT abdomen / pelvis for evaluation of suspected acute surgical pathology should opportunistically have CT thorax at the same visit.
This was based on (a) the high prevalence of COVID-19 in the community, (b) patchy availability and variable turnaround times of RT-PCR testing for COVID-19 and (c) documented poor outcomes of surgery for patients with COVID-19.
As community prevalence of COVID-19 has dropped; and availability of RT-PCR has improved (including rapid tests generating results in 45-90 minutes), so the need for an alternative (i.e. CT chest) has diminished. Most acute hospitals will now receive RT-PCR results before making a decision regarding operative management.
Acute abdominopelvic CT already includes the lung bases; the incremental benefit of full thoracic scanning where RT-PCR is negative and community prevalence is dropping is likely to be negligible.
We therefore suggest that there is no longer a need for routine CT of the entire thorax for patients undergoing acute abdominopelvic imaging.