Join the team on Monday 20th November 2023 for ..."Failure and the Fix" - BSGAR Registrar Study Day 2023.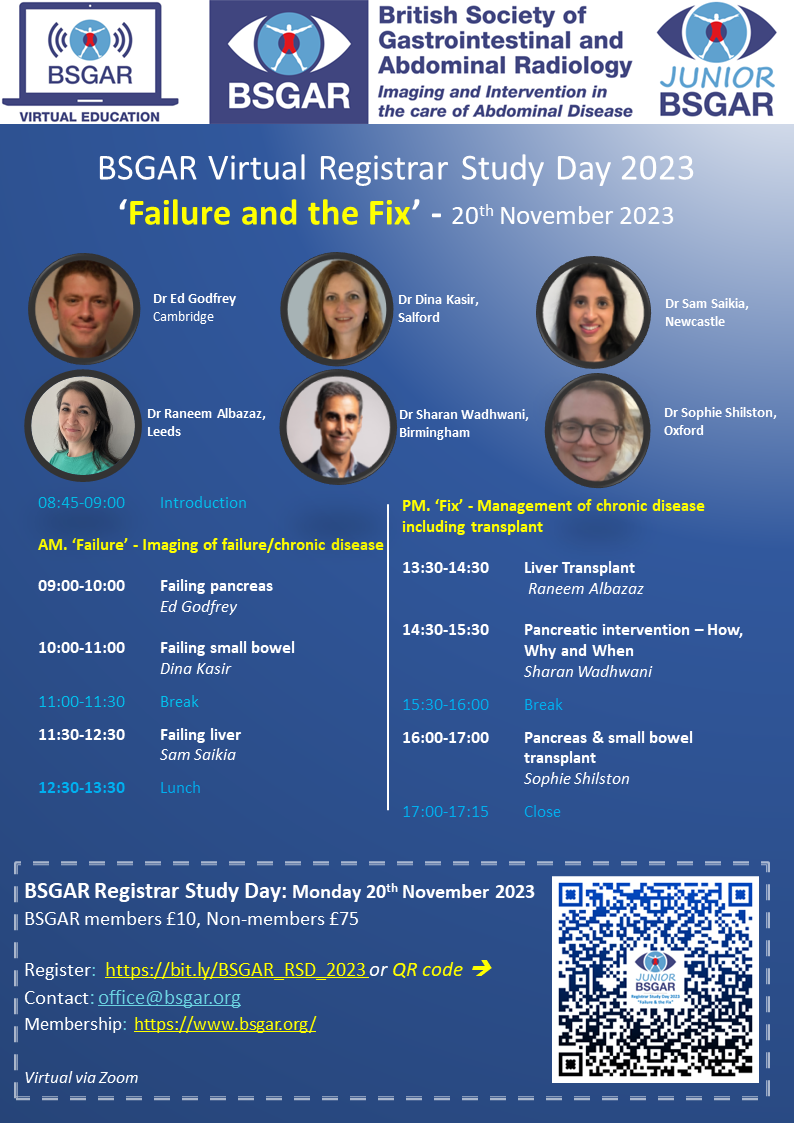 Study Day Registration fees: BSGAR Members £10, Non-members £75
Register for the study day - Click here
BSGAR membership fee: £50.
NB. to be eligible for beneficial membership fee delegates must be a member at time of application and event
Register to be a member - Click here
'Failure & the Fix'. BSGAR is delighted to announce the return of the Virtual Registrar Study Day on Monday 20th November 2023. This year we will focus on the imaging of chronic diseases and their management- 'Failure & the Fix'.
Delegates will have access to cases on Pacsbin prepared by our panel of expert speakers, including dedicated time for case review on the day, and plenty of opportunity for interaction during the case-based teaching.
The BSGAR Registrar Study Day is in its ninth year and has always been extremely popular with trainees with spaces selling out year on year. Due to feedback and popularity of the virtual format the registrar study day will be again delivered virtually via Zoom Webinar with access to recordings post event for member delegates.
The course is very much aimed at radiology trainees with an interest in GI Radiology. Please advertise within departments and with colleagues. Attendees do not need to be a BSGAR member but may wish to join to benefit from a reduced registration fee of only £10 for members.
Register for the study day - Click here or scan the QR code below.
Please note that the aim of the virtual study day is to replicate the face-to-face event as much as possible. Each talk will be in a workshop format. During each session you will be required to look through cases on your own computer using PACSbin, including dedicated time for review before the talk. Delegates are expected to attend the full day to maximise the opportunities offered by live speakers and interactive activities.
In the event elements are missed by delegates, a recording of each session will be made available to member delegates post study day.
Timetable...