One day lecture course delivered via Zoom with focused teaching session from GI Radiology experts.
Primarily aimed at post FRCR trainees, however topics covered will helpful to trainees at all stages of training.
Join the team on Tuesday 22nd November for ... "Unravelling the Mystery of Post-Treatment Imaging!"
Registration fees: BSGAR Members £10 and BSGAR; non-Members £75
BSGAR membership fee: £50. Click here to become a BSGAR member.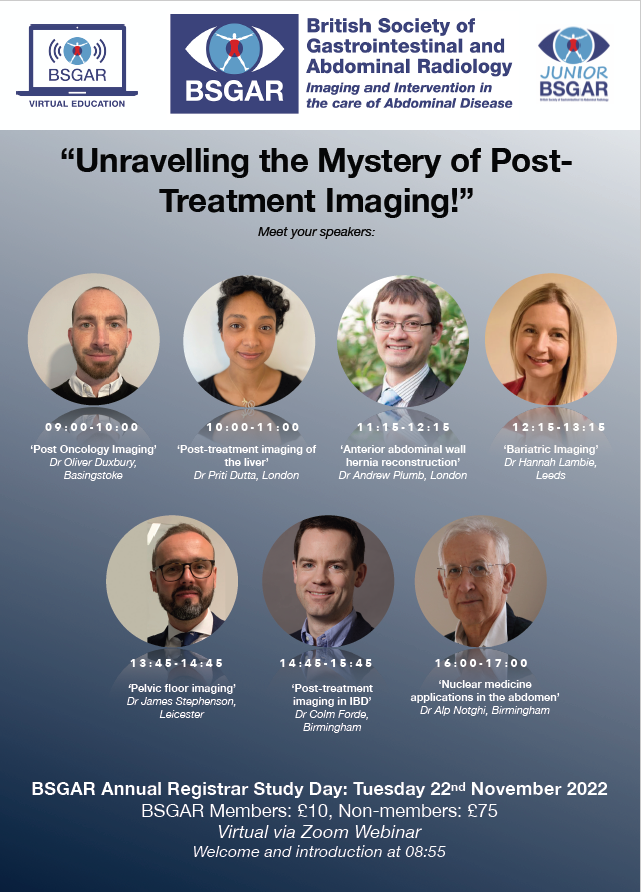 Scan the QR code below to register
Please note that the aim of the virtual study day is to replicate the face-to-face event as much as possible. Each talk will be in a workshop format and for roughly half of each session you will be required to look through CT cases on your own computer. Delegates are expected to attend the full day to maximise the opportunities offered by live speakers and interactive activities. In the event elements are missed by delegates, a recording of each session will be made available to member delegates post study day.